It's that time of year again, VMworld is around the corner (August 28-31).   This will be my 11th VMworld.   I've seen great ones, moderate ones – but never a lame one.  
Yes, the vibe has changed over the years – but hey, maybe it's that I'm getting older :-)
It's funny to think about it – as in ancient times, passing of time is measured in strange ways – used to be the solstice, when the sun "stood still".   Modern measures of time are a little different. 
For me over the last few years – I measure the year in quarters and in the big Tech Events.
EMC World (now Dell EMC World), Cisco Live, SAP Sapphire, Oracle OpenWorld, Microsoft Ingnite (I remember when it was TechEd), and of course VMworld.  Heck, the ever-evolving, fast burning emerging space makes this get even more crazy (with thousands of OpenStack summits, StrataConfs, DockerCons/MesosCon/KubeCon) – it can make your head spin.
But – for me, VMworld has always been a standout.  VMworld is a blend between the "big guy" conferences and the startups (more "big guy" these days) – but with a user community like almost no other.
The Dell EMC team here and I are working up on our content, VMware is getting their big launches ready.
What sessions do I recommend?
I'm going to try to make the "Everything but the kitchen sink" session (PBO3334BUS – Wednesday 30th 8:30-930am) as goot as I can – pulling out the stops as always.
I can't wait for the "Ask the Experts – 'Titans of Tech'" session (FUT1281PU – Monday 28, 2:30-3:30) – it will be an awesome panel with Kit Colbert, Duncan Epping, Josh Gwyther, Rick Scherer.    We've done this for a few years, and it's been one of my favorite sessions – because you ask questions, you probe, you push.  I hope you come armed with questions to challenge us!
Beyond those – there are so many to recommend…   Duncan's list at Yellow-Bricks maps to a lot of my must-see sessions and presenters.  I would register fast, these will fill up: http://www.yellow-bricks.com/2017/06/26/vmworld-around-the-corner-which-sessions-should-you-attend/
And as always – I'm going to try to crash some of the smaller, more intimate sessions, sit in, listen and learn.
-----
But on to another, more personal topic.
One of my favorite parts of VMworld is seeing old friends.   Even as the world turns, time passes, employers change, and we get older – great people, great friends are always a pleasure to reconnect with and catch up over food and drink.   A lot of traditions (#vBeers anyone) emerged from adhoc get-togethers.
My absolute favorite tradition is #v0dgeball – and this year we will be having our 9th annual #v0dgeball tournament – open for all.
I remember when we first started it, it was a fun way for fierce competitors to get together on the Sunday before the conference started, to have fun, to burn off a little steam, remember who we are as people, and raise money for a great cause – The Wounded Warrior Project.
9 years have generated a lot of memories, a lot of friendships.   Just check out this google image query for "v0dgeball".   You see a lot of people, a lot of friends having a lot of fun over the years.   Here are some awesome ones, but seriously, you can have a lot of fun looking at the search :-)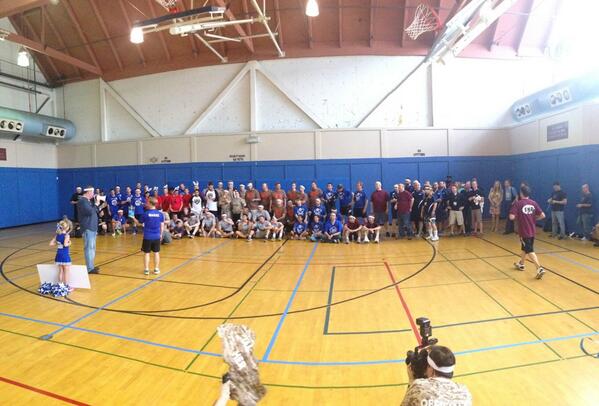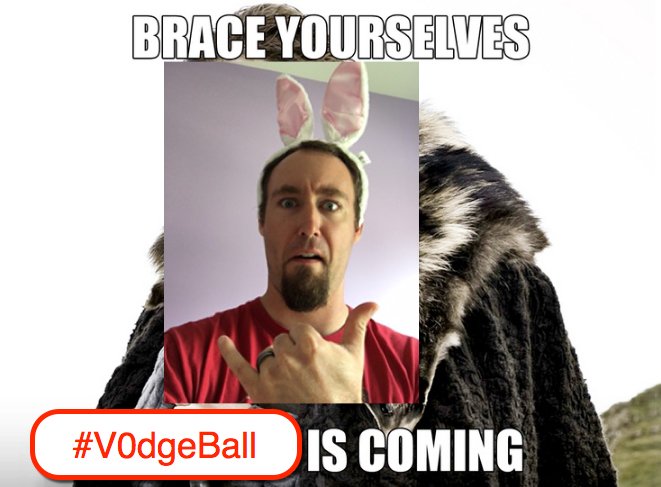 Today, it's turned into a much bigger production than I think Fred Nix, Wade O'Harrow and I had any idea it could be in the earliest days of the vSpecialists… the first year was just a couple motley teams in a pick-me-up game.  It's now up to the point where we now have to cap the teams (), and cap the number of players per team (), rent a big facility, and get help to officiate the events.
But the spirit is the same.
So – I'm sending out the clarion call: "Gather your teams, start warming up your muscles, practice your 5 Ds (Dodge, Duck, Dive, Dip, and Dodge), and get ready to RUMBLE!"
Team Pure is in.  Team Dell EMC is in.  Are YOU in?
Self-styled team captains – you'll need to raise $1000 to get a team, and rally your crew.  Be creative – think of fun jerseys, fun themes.  
And remember all – this is NOT serious.   Yes, some are more competitive than others – but play clean, have fun, and let's kickoff a great VMworld!